Ohhh the pressure of getting the digital storytelling formula 'right' in this ever-changing participatory media culture – do this, do that, don't do this, don't do that. Trying to deliver the right balance of key ingredients seems almost impossible. Just meeting expectations of being a woman is overwhelming:
Be a lady they said – girls.girls.girls.magazine won the people's choice at The Webby Awards for public service and activism.
The task of formulating the 'right' storytelling strategy is daunting. It should be timely, funny, appropriate, engaging, relatable, captivating, authentic, real, relevant, connected, powerful, spreadable, ethical, embracing, mysterious, emotional, meaningful, quotable, immersive, accurate, sculpted, compelling, consistent, complimentary, relatable, true to your brand…and then you need to find the 'right' channels, platforms and formats. Arghhhhhh!
Is anyone else feeling a little intimidated by this (short) list of items that are essential in digital media storytelling? Well, I have just self-diagnosed my condition and have concluded that I have a serious bout of WHELM…where's the wine?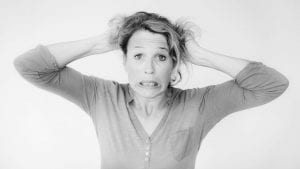 Each item is of importance when sculpting your story, but for me the most important ingredient is being true to your brand and your core values. We discovered the negative impact for Black Milk when their narrative seemingly abandoned their brand values in the May the fourth campaign. Compounding this was their inability to embrace narrative reversal by deleting unwanted commentary, blocking followers and downplaying customer sentiment.
One would have to question whether their brand values were considered at all for this campaign that was "seen as offensive and contrary to the non-judgmental values Black Milk said it stood for". You can find out more about the importance of brand storytelling in this blog post by Sarah Mitchell: Brand Storytelling – Turning casual fans into passionate followers'

All women are real. All Sharkies are beautiful.
When you have built an online community who are powerful brand ambassadors, THEIR values must be at the forefront:
People's lives don't revolve around your brand, they revolve around life. (Spreadable Media: Creating value and meaning in a networked culture by Jenkins, Ford and Green)
Social media has opened the door on content creation and communications to consumers, who, when emotionally invested, want to be a part of the bigger picture. They want to participate. In the case of Black Milk, it has built success through an extensive online community, across multiple platforms and considered groups. They have built their brand by allowing their consumers to be the storytellers, brand ambassadors, models, advertisers, and community leaders. And they galvanize their community by engaging with them – responding to every comment.
Black Milk have created a consumer network of online digital marketers who tell the story for their brand.
So, how do you become a great storyteller?
Well, the answer to that question is the cure to my WHELM. For me, you must create compelling and meaningful content for your audience that is timely, accessible AND in line with your brand's (consumer's) values. To do this, you need to understand your consumer, their interests and their passions and sculpt your story so that they are immersed and connected.  You have to build your community with consistency, authenticity, engagement, and participation and know where they can be reached and when.
And you need to practice, practice, practice!
Do you feel the whelm like I do? Pick up your laptop and let's soothe the whelm (cue Barry White sounds 😉 ) with some keyboard banter (and a glass of wine 😊). Tell me about your whelm feels in the comments below and I will get back to you.