Diagnosis Whelm (second wave, no Covid pun intended)
Urgh! Planning, auditing and scheduling…these are not my favourite things! Actually, they make me feel clammy and nauseous. And I think that is in part because my approach to digital storytelling has been very reactive and ad-hoc. If I am being honest, I have been flying by the seat of my pants and I don't think I am alone here. How embarrassing!

Marks, George. Reproduced from: https://www.fastcompany.com/3065385/why-embarrassment-can-be-a-good-thing-and-3-ways-to-deal
What has been your approach to digital marketing?
I have been playing this digital game of dodgeball on and off for my digital marketing life and left wondering why I haven't really struck anyone with my digital marketing [dodge] ball. I have approached marketing much like my sport – get in quick, be instinctive, strategise and problem solve in the midst of the mayhem and celebrate the wins. It's not a consistent winning formula.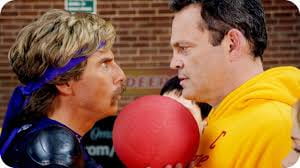 Borde, Risharbhe. Reproduced from: https://www.thecinemaholic.com/dodgeball-sequel/
Is it time well spent?
Who has the time to invest in auditing, measuring and scheduling with key (SMART) objectives and then analysis and refinement? There is so much information to gather and process, concept strategies to create and stories to be planned, tactics to be workshopped, mapping and monitoring, surveying and measuring. I'm feeling a relapse into a second wave of Whelm coming on!
The winning formula takes forward planning, auditing, analysis of stats and refinement and this will save you time in the end. Much like a successful sports team uses the match day statistician's data to plan for their next hit out, the homework helps you to get the formula right and then success will come (and so will the fans).
I do feel there needs to be a blend of opportunism with all this planning to achieve the best possible outcomes, where opportunities are siezed and leveraged. Although sometimes it may not always serve you well to have skimped on the planning. Here is an advertisement by Nike aimed to solidify community through Covid times, but it has offended many.
Source: Nike. 2020.
Who's got the Melways?
It is really important to know where you are and where you are going, and how you are going to get there – a car is going to be a different route to public transport or walking and the same principles apply in digital narrative planning.
Make sure you have a clear objective with identified target segment and how you are going to reach them. You need to have scope, scale and depth in a transmedic storytelling strategy to allow a variety of entry points for your audience. Your storylines need structure and can interweave into the overarching narrative.  And you need to validate and celebrate participation.
There are road maps out there to help you find your way and this week we were gifted with some really useful resources and working templates, thank you Curtin University! Newly discovered (for me) Hootsuite, is my favourite online hub for resources, news, industry trends, scheduling tools and of course templates to analyse and plan for digital marketing success. You can access, subscribe and download resources on Hootsuite here.
This is all building from our previous learnings about storytelling elements, understanding and authentically connecting with your audience, managing your digital reputation and then analyse and refine, refine, refine.
It's not Whelm, it's growing pains.
So, this is what it feels like to grow! They say growth can be uncomfortable and this week has dished up a few moments for me…but I am getting bigger and better at this game, so it's all worth it. Have you experienced any growing pains throughout this unit? Tell me what you have found the most difficult.
References:
Jenkins, Henry. March 21, 2007. "Transmedia Storytelling 101." http://henryjenkins.org/blog/2007/03/transmedia_storytelling_101.html
Image & video source:
Borde, Risharbhe. December 17, 2019. The Cinemaholic. "Will there be a Dodgeball 2?" https://www.thecinemaholic.com/dodgeball-sequel/
Nike. 2020. "You Can't Stop Us." https://www.youtube.com/user/nike
Marks, George. Getty Images. Fast Company. https://www.fastcompany.com/3065385/why-embarrassment-can-be-a-good-thing-and-3-ways-to-deal